А better night's sleep
Dormin is America's original night-time sleep aid, helping people get a good night's sleep since 1950. So whatever the cause of your sleepless nights, choose the brand with the history of helping people get the sound, refreshing sleep they need for a better tomorrow.
Easy-To-Swallow,
Fast-Acting Mini Capsules
Fast

Dormin's easy-to-swallow, fast-acting mini capsules dissolve faster than tablets. This means you can take it closer to bedtime, and it will act faster to help you fall asleep quickly.

Safe

Dormin is a clinically proven safe, non-habit forming sleep aid, trusted by problem sleepers for generations. So you can be confident when you try Dormin that you will not experience harmful side effects.

Effective

Dormin is a sleep-aid containing Diphenhydramine Hcl – the #1 doctor-recommended sleep ingredient. And as a single ingredient sleep-aid, Dormin is free of other medicines that you may not need.
An American Original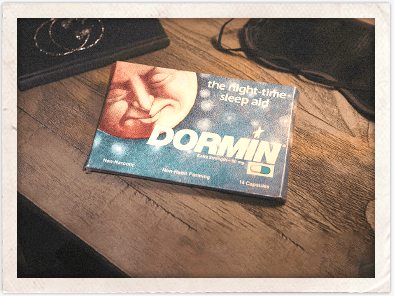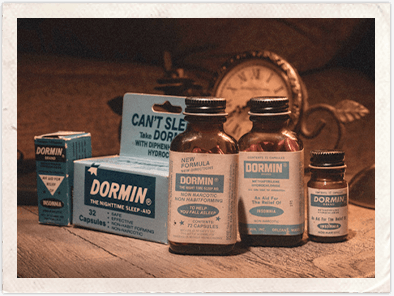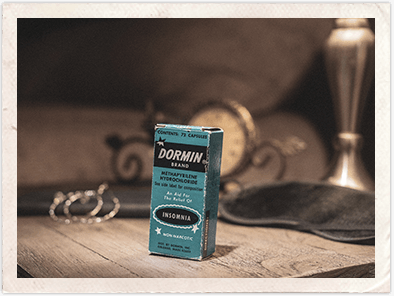 People experiencing occasional sleeplessness have turned to Dormin for relief since 1950. In fact, as the first trademarked OTC sleep aid brand in the United States, Dormin has earned a dedicated following ever since for one simple reason: It works.
"Rest Assured…with Dormin"
From the start, Dormin has always been a central part of a family-owned company. And Dormin has continually been made in the USA. Originally marketed under the slogan, "Rest Assured…with Dormin," it was promoted in the 1950s in publications such as LIFE Magazine as "The Safe Sleeping Capsule" that would provide "a gentle, reliable nudge into the welcoming arms of Morpheus."
So while any number of modern problems might be keeping you up at night – from stress and anxiety, to medications or other health issues – you can still choose the trusted brand with a proven history of helping people get a restful night's sleep.